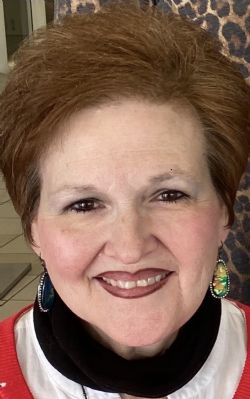 Donna Kay Meeks, 66, of Greenville, passed away on Sunday, July 11, 2021, in Dallas, Texas. Funeral services will be held 2:00 P.M., Thursday, July 15, 2021, at Ridgecrest Baptist Church with Dr. Dewey Davidson and Mr. Nick Jones officiating. Burial will be in Memoryland Memorial Park. Visitation will be 6:00 P.M. to 8:00 P.M., Wednesday, July 14, 2021, at Coker-Mathews Funeral Home.
Painful days and dark clouds gave way to sunshine for my beautiful wife, Donna, early Sunday morning as she went to be with her Lord and Savior Jesus Christ. She fought a three-year battle with pancreatic cancer. However, the cancer did not win, God won. He always wins.
She was born February 22, 1955, in Mount Vernon, Texas to Harold (Jack) Holmes and Helen Newman Holmes. She married Randy Meeks on February 14, 1976, in Quitman, Texas.
Donna served the citizens of Hunt County for over 30 years working in several different departments at the Hunt County Courthouse. She was the Court Coordinator for the Honorable District Judge Rick Beacom and retired as Court Coordinator for the Honorable District Judge Keli Aiken. She was a member of Prairie Valley Baptist Church.
She was the most giving and loving person around. She always thought of others before herself. She was extremely creative. She would pick up a door on the side of the road and make it into one of the most beautiful pieces of furniture. She will forever be known for her smile and her famous sugar cookies. She had a cookie cutter for every occasion.
She was loving and caring wife, mother, grandmother, daughter, aunt, daughter in law, and sister-in-law. She worked tirelessly in my many political campaigns for Constable and then for Sheriff. She was a strong supporter for the men and women in blue.
She loved her church, Prairie Valley Baptist Church, and you can see her in all the decorations at the church. She has left a mark everywhere she went.
She is survived by her husband, Randy Meeks of Greenville; son, Justin Meeks; daughters, Paige Jones and Sarah Hammack; mother, Helen Holmes; grandchildren, Lydia Jones, Levi Jones, Samuel Jones, Benjamin Jones, Caleb Jones, Hunter Horton, Jace Meeks, Brinley Meeks, Lacey Rice and Tatum Hammack.
She was preceded in death by her father, Harold (Jack) Holmes and father-in-law, Troy Meeks.
Pallbearers will be Justin Meeks, Mitch Hammack, Nick Jones, Levi Jones, Hunter Horton and Chad Marshall.
Memorials may be made to Prairie Valley Church in honor of Donna.
Her family is grieving her absence, but they know where she is and that she is no longer in pain. She was a very strong and tough woman, who endured a tremendous amount of pain, but she fought courageously.