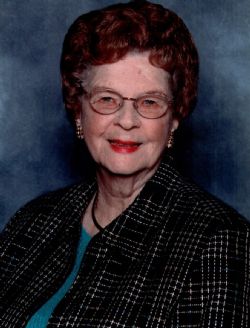 Dorothy Cecellia Jenkins passed away peacefully to eternal life on Thursday, December 26, 2019 at Briarcliff Health Center. A celebration of life service will be held on Friday, January 2020 at 2:00 p.m. at the chapel of Coker-Mathews Funeral Home with Rev. Chris Yost officiating. A visitation will be held at 1:00 p.m. until service time.
Dorothy was born a twin on March 7, 1920 to Clyde and Myrtle Capp of Woodlawn, Illinois. She attended schools in Mt. Vernon, Illinois and graduated from Mt. Vernon High School in 1938.
She married William O. Sharpe in 1942.  She was a World War II bride while her husband served in the Army 1942-1945.  She became a mother to a daughter Linda in 1943 and a son Bill in 1948.  After the war ended Dorothy and her husband lived in Mt. Vernon, Illinois for a few years.  Her husband joined the National Guard for full-time duty and they moved to Springfield, Illinois.  He reached the rank of Colonel before his untimely death in 1968.
Living in Springfield, she was happy to be near her twin sister, Doris Coon.  During the next fifteen years, she and her sister traveled with their husbands to many national "Twins Conventions".  She and her sister won the most identical twins contest several times.  Dorothy loved her home, family, and enjoyed sewing, cooking, and flower gardening.
After her husband died, she worked for the Illinois State Museum until she decided to move to Texas to be closer to family.  She married Richard Jenkins from Springfield in 1975.  He died in 1986.  In 1989 her twin sister Doris came from Florida to live with her.  They lived in a house on Stonewall Street for many years before moving into Colonial Lodge where they enjoyed friendships and staff. After an illness in 2015, Dorothy moved to Briarcliff Health Center.  A special thank you to Briarcliff for their loving care and concern for Dorothy.  Dorothy was a member of Wesley United Methodist Church and a member of the ALR Class where she made many wonderful friends.  She helped prepare and serve Wednesday night church dinners for many years.
Dorothy is survived by daughter, Linda Bolin and husband, Don; son, Bill Sharpe and wife, Juanita of Grand Rapids, Michigan; granddaughter, Joy Hosey and husband, Tom of Rockwall; grandson, Bill Bolin and wife, Lisa of Ft. Worth; great-granddaughter, Mallory Buckley and husband, Price of Dallas; niece, Dana Van Gorden of Mt. Top, Penn.
She is preceded in death by her husbands, William O. Sharpe and Richard Jenkins; parents, Clyde and Myrtle Capp; brother, Paul Capp and twin sister, Doris Coon.
The family has requested memorials be sent to The Good Samaritan Fund at Wesley United Methodist Church, P. O. Box 864, 1200 E. Joe Ramsey Blvd., Greenville, Texas 75402 or to the charity of your choice in her memory.