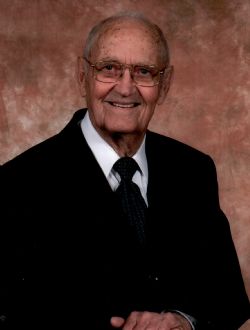 Dwyane Craig, 99, of Greenville, passed away on June 24, 2021, in Greenville. Funeral services will be 10:00 A.M., July 1, 2021, at Coker-Mathews Funeral Home Chapel. Visitation will be 6:00 P.M. to 8:00 P.M., Wednesday, June 30, 2021, at the funeral home. Burial will be in Memoryland Memorial Park.
Mr. Craig was born February 18, 1922, in Greenville, Texas to Robert Bruce Craig and Emma Ellen Gray. He married the love of his life, Marie Phaup in Jasper, Texas on August 28, 1948, and they were married for 55 years. He was a Veteran of the United States Air Force, where he was a Radio Mechanic on board an aircraft carrier in the Pacific during WWII.
After returning from the service, he graduated from ETSU on a GI Bill, majoring in Industrial Education with a minor in Physics. After college, Dwyane joined his brother and Dad in their family business as Brick Masons in Greenville. Many homes and businesses built during that time are reflections of their talented work. He was an avid fisherman and hunter during his life, even building fishing rods and carving a gun stock from a block of wood. He joined a Carving Club, where club members met and exchanged new techniques and ideas, which expanded his talent to a variety of projects. In his later years, he began carving Caricatures on the inside of golf balls and enthusiastically gave them away to new people he met, they are now scattered far and wide across the country.
Dwyane was a lifelong member of Washington Street Baptist Church, now known as Highland Terrace Baptist Church, where he served as Deacon for many years.
He is survived by his daughter, Dr. Dianna Craig in Johnstown, PA.
He is preceded in death by his wife, Marie, parents, and older brother, Alton.
Memorials may be made in Dwyane's memory to a charity of your choice.
Dwyane will always be remembered for his easy going, fun loving, teasing interactions with everyone he loved and knew.