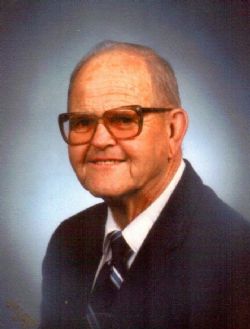 Elton Ray Baxter, 98, of Greenville, TX., passed away on January 14, 2021 in Greenville, Texas. Funeral services will be at 2:00 P.M., Sunday, January 17, 2021 in the chapel of Coker-Mathews Funeral home with Mr. Brady Cook officiating. Burial will follow at Brashear Cemetery, visitation will be Saturday from 2:00 P.M. to 4:00 P.M. at the funeral home.
Elton was born April 11, 1922 to James Franklin Baxter and Vera Mae (Morris) Baxter in Brashear, Texas. He was the loving couple's second son, the 5th of 10 children. An orphan cousin was also part of the household. Elton was an excellent student in school (mostly "A's") and a very good basketball player despite being only 5'7 ½". In his teens he carried mail part-time as his father's assistant.
At age 14 he saw a girl walking with her friends and pointed her out to his companions, saying he was going to marry her one day. He did just that, marrying Daisy Marie Garner on august 9, 1942. Elton joined the Army Air Force, serving during World War II in Italy. After his eldest son, Larry was born in 1944, Elton chose to leave the service as a Master Sergeant, despite offers of promotion, and returned to Texas, locating first in Dallas and then Greenville.
When a 2nd son, Gene, was born Marie wanted a house without stairs so the growing family moved from Park Street to Cornelia St. where they were surrounded by friends from church and where a 3rd son, Michael Ted, was born. (Michael was named for Marie's friend, Tillet S. Teddlie). Fourth son Jerry Lynn was born after a final move to an old farm just outside town, fulfilling a long-held dream for the country life.
In addition to raising livestock and 4 boys, Elton worked as salesman for Glassman Oxygen and Supply, becoming their top sales representative. The family also began traveling, around East Texas, Oklahoma, Arkansas and to Nashville, enjoying their friendship with the likes of Marty Robbins, Jeanie Pruitt and Dottie West.
Elton also overcame a discomfort with public speaking and he and Marie became County-at-Large 4-H Club leaders following Mr. and Mrs. Herbert Blain and Mr. and Mrs. Lloyd Carden. Under his and Marie's tutelage, their sons won, among others, the Danforth Award, Sears Roebuck Awards, the County Gold Star Award, and fairs in Hunt and Hopkins counties and served on the county 4-H Council.
Elton had a life-long passion for healthy living. A self-proclaimed "health nut". He made his own immune system- boosting tincture, as well as healthy food popsicles for the growing flock of grandchildren and all great-grandchildren and great-great-grandchildren, all of whom he cherished deeply.
In 1977, Marie lost her years-long battle with cancer. Elton never remarried, maintaining he had already had the best and had no further interest. Son Michael, who lived at home with his father, passed away suddenly on Christmas Day in 2002, Eldest son Larry died in 2013.
Elton grew ever more generous in his later years, living modestly in the small farmhouse that had nurtured so many. He loved to take drives around the area, revisiting former haunts and regaling listeners with the tales of people and events that they invoked. He was lovingly attended daily in his last years by son Jerry and his wife Sandy, with son Gene making frequent trips from Little Rock, Arkansas, to assist.
Elton is survived by one sibling, Max Baxter and wife Sherry of Sulphur Springs, and two sons, Gene and Jerry, as well as 9 grandchildren, 18 great grandchildren, 10 great-great grandchildren. He will be remembered as a loving husband and father and a man of unfaltering faith.
Pallbearers will be James Baxter, Alan Baxter, Aaron Cook, Garner Baxter, John Henthorn and Brent Lemmon.
We are requesting that you limit the size of the gathering during the viewing due to concerns regarding the current health crisis. Please feel free to come and pay your respects but limit your contact with others as per recommended guidelines from the CDC.