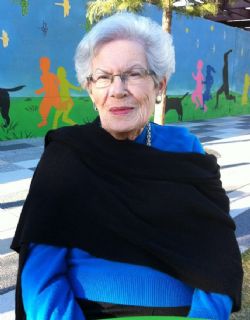 Helen Marie Franklin Rutherford died peacefully at home on her 92nd Birthday, November 7, 2020 in Greenville, TX.
A public Visitation at 1pm and Memorial Service to follow at 2pm will be held at United Presbyterian Church on Friday November 13. Officiated by Pastor Candice Womack. Services are under the direction of Coker-Mathews Funeral Home.
Please join Helen's family in celebrating the accomplishments and joys of Helen's blessed life.
A private family burial will follow at East Mount Cemetery, Greenville, TX.
Born in Hope, Arkansas on November 7, 1928 to Elmer and Zola Franklin, Helen graduated Hope High School and graduated from Tri-State Nursing School in Shreveport, Louisiana. Afterwards returning to Hope for a position with the local hospital. Helen then moved to Dallas to complete her nursing residency at the Old Parkland Hospital, shortly after she accepted the position as Nurse for the Greenville Independent School District in 1952. Helen received her State Board of Examiners Nursing Registration from both Arkansas and Texas in which she privately maintained through 1987.
Helen married Army Capt. William Medford "Med" Rutherford, Sr. in 1954. Her husband, a disabled WWII veteran and purple heart recipient, never considered himself "handicapped". Like his wife, he was an intelligent, independent, quietly strong and generous citizen. He graduated from Texas A&M in 1941 prior to receiving his military commission. On his return to Greenville, Med helped design his own accessible home and operated his small business, The MR Shop in Downtown Greenville until his death in 1982. Helen considered herself blessed to have had a wonderful loving marriage and friendship for 28 years, recently sharing with her children, "Your Father made me a kinder person".
Showing her characteristic independent strength, Helen then embraced the role as her family's matriarch. A loving, supportive, and "generous to a fault" mother, grandmother, great-grandmother and friend, she offered a strong foundation and encouragement for each of her children's and grandchildren's individual life pursuits.
An advocate of self-care, Helen also administered to her family and friends when needed, including the care of her husband, daughter, mother and sister.
Never waiting to be asked, Helen was always first to volunteer to help but was also the first to be sought out by her friends for her strong, compassionate care and knowledge. She provided her inner strength, courage, intelligence, and grace, without the need for acknowledgement or reciprocation.
Helen was a long-time member of many local organizations including the PTA, Altursa Club and Jr. Pallas Club. She enjoyed playing bridge twice monthly and socializing with her Friday Shangri card and dinner group of friends each week. She was also a long-time member of the First Presbyterian Church and "Presbyterian Women" since 1954. (Currently the United Presbyterian Church of Greenville).
Helen loved cooking and hosting her family and friends at every opportunity. She was also an avid gardener, sports enthusiast and constant reader.
Helen was known for always presenting herself with her own refined style no matter the occasion, casual or formal. Her weekly hair salon visits were rarely missed. She understood the importance of always presenting your best self. It is in that celebratory spirit, Helen requested to be buried in what she called her "party dress".
Helen possessed a deep passion for travel, welcoming the joy of new experiences and the education opportunities it provided. She embraced the diversity of New York City, Boston, and San Francisco; among just a few cities she visited regularly over the years. She also set out each fall and spring, accompanied by close friends, for road trip "adventures", bi-annually checking off many of her "Bucket List" places. Her extensive travels also included many locations throughout Europe and Canada.
That quietly adventurous spirit carried through into Helen's later years: She celebrated her 84th Birthday with a champagne brunch at the famous Brennan's in the French Quarter of New Orleans and revisited the piano bar of Pat O'Brien's, last visited in 1950 with nursing school girlfriends. At the age of 86, she consumed the ultimate pastrami sandwich at Katz's Deli in NYC's Lower East Side, enjoyed her love of Broadway shows, attended the Hudson Valley Shakespeare Festival, dined at the Culinary Institute of America in Hyde Park, took a boat excursion on the Hudson and a train ride through the Catskill Mountain Region, and enjoyed the West Point Jazz Band with a picnic on the lawns at the West Point Academy Bandshell overlooking the majestic Hudson River – all within a five-day span.
Her gentle silver-haired grandmother demeanor belied an independent, fearless spirit. Understanding the importance of remaining curious and current, throughout her life she continued to educate herself and welcomed challenging her own beliefs as she evolved intellectually, creatively, emotionally and spiritually.
In addition to her courageous husband Med Sr, Helen was preceded in death by her beloved daughter Ann Rutherford Bickel in 2007, her parents Elmer and Zola Franklin, sister Edna Fielding and brother-in-law Jack Fielding, and a multitude of deeply loved relatives and long-time family friends.
Helen is survived by her children Med Rutherford Jr., Joe Rutherford and daughter-in-law Virginia Rutherford; grandchildren Elizabeth Rutherford, William Rutherford and fiancé Lyndsey Jarvis, Andra and Garrett Breazeale, Kara and Randy Chaplin; great-grandchildren Wyatt Chaplin and Ford Chaplin; beloved nieces Sharon Thomason and Jacque Allen; and many other cherished Franklin, Turner, Ardis, Miller and Rutherford family members.
Helen always carried out her actions with class, humility, humor, and her beautiful quiet authority. While she will be deeply missed by all who knew her, her family feel all the more blessed to have experienced their lives with her never faltering honesty, courage and inherent grace.
In Helen's Honor make Donations to: United Presbyterian Church, "Presbyterian Women" at 5905 Stonewall, Greenville, TX 75402.
In respect to the family and our community, the wearing of masks and proper social distancing will be required. Due to limited seating in the Sanctuary, based on the CDC guidelines we also encourage you to stream the service live on the United Presbyterian's Facebook page.