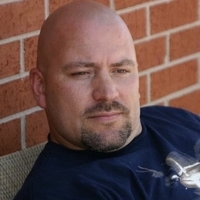 Jeffrey "Jeff" Alan Wooten, 52 of Commerce, passed away on March 28, 2022  at his home surrounded by his loving family.  He was born on May 26, 1969 to Don Wooten and Patsy Jean Smith in Greenville, Texas.
Jeff had a very compassionate heart and genuinely loved the Lord and people.  He devoted his life to being a Pastor.  His first job as an ordained minister was as a youth pastor at Terrell Church of the Nazarene.  He pastored several churches throughout his career including the Bread of Life Church of the Nazarene in Commerce, Texas, Cornerstone Community Church of the Nazarene in Burkburnett, Texas, and Cornerstone Church of the Nazarene in Wagoner, Oklahoma.
Jeff loved life and lived it to the fullest.  He enjoyed being outdoors, from going camping, and hunting to riding motorcycles.  He will be remembered for having a larger than life personality and fun-loving nature.
Jeff leaves lasting and wonderful memories for his family and friends.
Jeff is survived by his loving wife of 33 years, Christie Wooten; sons, Matthew Wooten, Joseph Wooten (Breanna); granddaughter, Aliza Wooten; mother, Patsy Jones; father, Don Wooten; siblings, Tzena Schumacker, Ann McDonald, Cheryl Johnson (Felisha), Carri Minter (Trevor), Heather Wooten; numerous nieces and nephews; dear friend like a sister, Cindy Foss; along with a host of loving relatives and friends.
He was loved deeply and will be missed.
A Celebration of Life Service will be held in Jeff's honor at 2:00 PM on Friday, April 1, 2022 in the Lynch Funeral Service Chapel in Greenville, Texas.