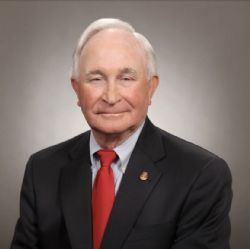 Renowned for his passion for people, charm, and humility Joe Winniford lived an impactful life as a patriarch, banker, and avid golfer.  Joe left this world on September 15th to be with his Lord and Savior in Heaven.  An energetic and friendly soul, Joe's life was filled with a lifetime of experiences and adventure.
Joe Don Winniford was born August 30, 1938, in Cumby, Texas to Sherwin A. Winniford and Stella Mae Poe.  After graduating from Cumby High School, he joined the United States Navy where he faithfully served for four years.  After his service, he attended East Texas State University (now Texas A&M – Commerce) and obtained a Bachelor of Business Administration degree.  He later graduated from the Southwest Graduate School of Banking at SMU.  His alma mater remained a passion of his as he later served as an Ambassador for Texas A&M – Commerce.
In 1963 he married his high school sweetheart Mary Helen Russell.  They moved to Greenville, Texas where Joe started his banking career as a bookkeeper with Citizens National Bank.  He later held various positions at the bank as he eventually worked his way up to President and CEO of the bank.  He would go on to faithfully serve the community for 57 years as a banker focused on the customer experience.  Joe's desire was to know his customers on a personal basis, so he could better understand their needs and be able to help provide meaningful solutions.  He was a "people" guy, he loved people and they loved him back.  He spent the final 18 years of his career with American National Bank of Texas as a Business Development Officer.  He joined the bank in 2002 and retired at the end of 2020.  Joe was recognized in August of this year by the Texas Bankers Foundation for service and dedication to the Texas banking industry spanning over half a century.  He was in attendance to receive this award for such a remarkable achievement.
In addition to his Ambassadorship to the University Joe served as Past Chairman of the Budget and Finance Committee of Highland Terrace Baptist Church, Past President of the Greenville Lions Club, and also served as President and Director of numerous other local boards throughout his years of service to the Greenville and Hunt County area.
Joe Don "Corky" Winniford is survived by his wife of 58 years Mary Helen Winniford (Ganmamma); daughter Holly Jo Robinson and husband Nathan of Brashear, Texas; son John S. Winniford and wife Nicole of Fairview, Texas.  He also has eight grandchildren, Chandler Muzyka-Winniford, Heather Norman Fulton, Zachary Norman, Tripp Winniford, and Reid Winniford; as well as Kayleigh Parker, Cristina Thompson, and Haley Wilbanks; along with numerous nieces and nephews.
He was preceded in death by his parents, daughter, Mary Jo Winniford; brothers Sherm A. Winniford, and Marvin D. Winniford.
Joe's passions included his faith, golfing, reading, and storytelling.  His desire to serve the Lord was evident, he was a dedicated Christian and believer and strived to live his life accordingly.  Over 5 decades he served both First Baptist Church (1964-1999) and Highland Terrace Baptist Church (2000-2021) as a Deacon and participated on numerous Boards and Committees.  Joe was an avid golfer and looked forward to every opportunity he had to be on the course.  He loved the competition, the fellowship and had a true love for the game.  His greatest joy was his family, wife Mary, children and grandchildren.  He and Mary were best friends and a remarkable example for their children and grandchildren to follow.
The family would like to thank everyone for the outpouring of love and support from the community, friends, and family.  In lieu of flowers the family would request donations be made to either the Highland Terrace Baptist Church Youth and/or Building Fund or Hunt County Children's Advocacy Center.
Visitation will be 5:00 pm to 8:00 pm, Wednesday, September 22, 2021, at Coker-Mathews Funeral Home.  We encourage those that are 65 and older to arrive between 5:00 pm and 6:00 pm if preferred; and those under the age of 65 plan on arriving between 6:00 pm and 8:00 pm.  Funeral Services will be held at 2:00 pm, Thursday, September 23, 2021, at First Baptist Church of Greenville, with Rev. Riley Hamilton and Dr. Chet Haney officiating.  Interment will follow at Cumby Cemetery with military honors.