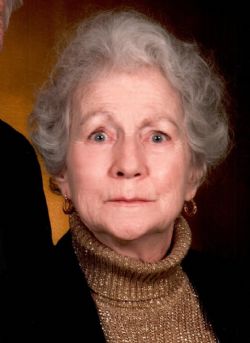 Johanna Shirey, 88, of Greenville, passed away on Saturday, June 20, 2020 at her residence. Funeral services will be held on Saturday, June 27, 2020 at 10:30 a.m. at Ridgecrest Baptist Church. Burial will follow at Memoryland Memorial Park.
Johanna was born November 11, 1931 in San Antonio, Texas to C. H. and Ima Neal Griffin. She married David Shirey on November 29, 1952 in San Antonio, Texas. She was graduate of Baylor University. She worked as a homemaker while teaching young wives and mothers in home and church Bible studies, marriage counselor and played for and director children's choir. A number of her poems and articles were published. She was a member of First Baptist Church of Rockwall.
Johanna is survived by her husband, David Shirey of Greenville, daughter, Sheila Patterson and husband, Ken Patterson of Abilene; sons, Tom Shirey and wife, Kathy of Greenville, Stewart Shirey and wife, Elmyra of Haslet; grandchildren, Daniel Patterson, Aaron Patterson and wife, Alexa, Johanna Cole and husband, Logan, Isaac Patterson, Ian Patterson, Carrie Patterson, John Patterson, Zeke Patterson, Levi Patterson, Isabelle Patterson, David Shirey III and wife, Olivia, Benjamin Shirey and wife, Neely, Joshua Shirey and wife, Beth, Ethan Shirey and wife, Lizzie, Micah Shirey and wife, Lindsay, Elizabeth Follett and husband, Luke, Nathan Shirey and fiancé, Baylor Buzby, Sarah Shirey, Barrett Shirey and wife, Kaelynn, Courtney Durham and husband, Grant, Emily Johanna Shirey; great-grandchildren, Hazel Cole, Ledger Cole, Vanessa Shirey, Alina Shirey, Sofia Shirey, Leryn Shirey, Rowyn Shirey, Zoe Shirey, Ransom Shirey, Graham Shirey, Gemma Shirey, Griffin Shirey, Pierce Shirey, Raelynn Durham.
She is preceded in death by her brothers, C. H. Griffin, Jr., Deel Griffin and sister, Gloria Bagwell.