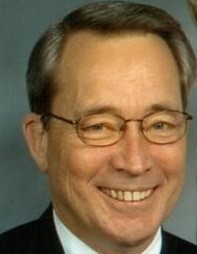 Johnnie Lee Henderson, Jr., 67, passed away on Thursday, May 30, 2019, surrounded by his family. He was born on December 28, 1951 in Clarksville, Texas to Johnnie Lee Henderson, Sr. and Evelyn Young Henderson. The family will receive friends at a visitation on Friday, May 31, 2019 at First Baptist Church in Commerce from 6:00 p.m. to 8:00 p.m. The funeral will take place on Saturday, June 1, 2019 at 10:00 a.m. at First Baptist Church with Reverend Kris Myers officiating. Burial will follow at Hillcrest Cemetery in Forney, Texas at 2:00 p.m.
Johnnie graduated from W.W. Samuel High School in Dallas, Texas in 1970. Following high school, he attended Eastfield Community College. While there, he and some other students were instrumental in the formation of the Baptist Student Union. Johnnie then attended Stephen F. Austin State University, earning his BS in History in 1975. Following his time at SFA, he began his studies at Southwestern Baptist Theological Seminary, earning an MA in Religious Education in 1979. During his undergraduate studies, Johnnie met the love of his life, Glenda. They married in Brownsboro, Texas on August 28, 1976.
Johnnie enjoyed spending time with his family. Fishing was a favorite sport. He fished quite a bit with men in churches where he and Glenda were members. For many years, Johnnie went to Braum's every morning to drink coffee with a group of men. He loved people and loved talking to anyone about his Lord and Savior Jesus Christ. Johnnie served in Texas as a Baptist Student Ministry Director for 24 years. He also served as pastor of First Baptist Church Commerce and Merit Baptist Church in Greenville.
Johnnie is survived by his wife of 42 years, Glenda; his sons, Matthew Henderson and Wesley Henderson and wife, Stephanie; his mother, Evelyn Henderson; sister, Jayne Huffman and husband, Bruce as well as numerous nieces and nephews.
He was preceded in death by his father, Johnnie Lee Henderson, Sr.
Serving as pallbearers for Johnnie are Bruce Huffman, Bruce McGowan, John Pearce, Joe Schmidt, Jerry Alexander, Teddy Reel, Russell Armstrong, and Bob Draughn.
A very special thank you to our family at Briarcliff Health Center in Greenville, Dr. Tom Selvaggi and Dr. Rick Selvaggi for all you did for Johnnie, for me and our family! You are the best.
If you would like to give a gift to honor Johnnie, please go to www.texasbaptists.givingfuel/BSM-TAMU-Commerce. You may leave condolences by visiting www.commercefuneralhome.com.