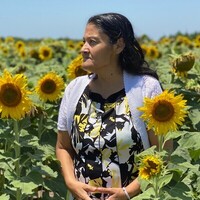 Juanita (Chiquito) Hernandez, 54 passed away on December 28, 2020 in Greenville, Texas. She was born on May 16, 1966 to Odom Chiquito Sanchez and Esperanza (Contreras) Chiquito in Mexico.
Juanita loved the Lord and was an active member of Iglesia Palabraviva in Greenville, Texas. She was a devoted wife, mother, and grandmother who lovingly cared for her family every moment of her life. She leaves lasting and wonderful memories for her family and friends.
Juanita is survived by her loving husband of 34 years, Ramon Hernandez; mother, Esperanza Chiquito Contreras; five children, Sandra Hernandez and her husband Hector Alamillo, Juan Ramon Hernandez and his wife Mireya Mejia, Ruth Hernandez, Anita Hernandez, and Janet Hernandez; grandchildren, Jose Salinas, Jr., Carlos Salinas, Natalie Salinas, Angel Salinas, Ariana Salinas, Loreley Alamillo, Ethan Salinas, Jay Daniel Hernandez, and Gael Alamillo; and numerous siblings, nieces, nephews, and friends.
A Graveside Service will be held on Monday, January 4, 2021 at 1 PM at LYNCH Memorial Park located at 4238 Highway 34 South in Greenville, Texas.