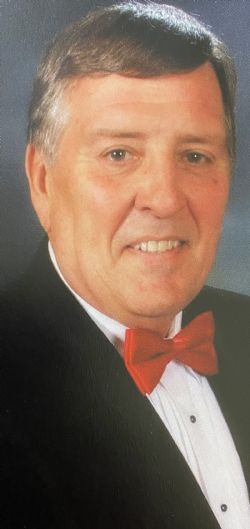 On May 29, 2021, Kenneth Richard Loss of Wolfe City, Texas went to be with his Lord and Savior and reunite with his wife Beverly, who passed just 5 months ago. He will join her and his loved ones who predeceased him. There are no services planned at this time. Arrangements are under the direction of Coker-Mathews Funeral Home.
Ken was born in East Orange, New Jersey to Warren and Beverly Stevenson Loss and moved to Wolfe City, Texas with his wife and children in 1988. He served in the Navy during Vietnam aboard the USS Canberra and was a recipient of the National Defense Service Medal. Ken attended Farleigh Dickinson University earning a bachelor's degree, and Rutgers University earning an MBA. His career included working for Pfizer, Sherwin Williams, Morton Salt, and Parks Corporation, among others.
Ken and his wife spent a lot of time traveling the world and had visited over 60 countries. They both felt they lived full lives and were fortunate to be able to travel abroad so much. In retirement, he earned a degree in Agriculture from Texas A&M University in Commerce Texas and began a journey into cattle ranching. He also shared his love for his discipline as an Adjunct Instructor at Texas A&M University in Commerce Texas for a few terms. He had an immense passion for his cattle and loved to be working on the ranch. Those who knew him also appreciated his soulful insights, stories, life experiences, larger than life wit and humor, and of course, his un-wavering love affair with salt!
Ken believed he was put on this earth to raise two independent and happy children, and to support two loving wives through difficult health problems. He strongly, and selflessly supported them with love in 1981 and 2020 as they reached the end of their lives with him. It was a privilege for those who surrounded Ken to witness the grace and strength both he and Beverly showed in walking through their health challenges this past year together. Those who witnessed the great love they had for each other will forever be impacted. He was a man whose strength was shown by his gentle nature.
Left to cherish his memory are his son, Ryan Loss and wife Lindsey of Rockwall, Texas daughter, Jessica Rogers and husband, Damian of Rockwall Texas, along with grandchildren, Bryanna, Hunter, Nicholas, Logan, Slayde, Cameron, Hayden, Bryson and Jaxon, and fur babies, Mimi, Bob and Benji.
"May the force be with you. Give life hell".
~ Ken Loss in a letter to Jessica, May 1995