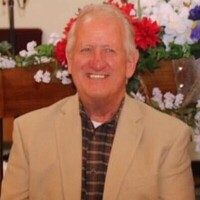 Michael Keith "Mike" Mullins, Sr. 72, of Greenville, passed away on December 15, 2020.
He was born March 15, 1948 in Indianola, Mississippi to Earl Gene and Margarine (George) Mullins.
Mike was an amazing man.
He proudly served his country for twenty-one years in the US Navy, including military retirement. In addition, he served as a Pastor for the Assemblies of God and Baptist Christian denominations for many years, also until retirement. First and foremost, he loved the Lord. He had a heart and real love for people. His family was priority in his life, it was even said, "his grandchildren were his life!"
Mike was a complex man. In his free time, he enjoyed everything from being a computer whiz to his passion of music and piano playing to getting away with the grandkids and going fishing in the outdoors. The impact on the lives he touched will be forever missed and cherished.
Mike is survived by his loving wife of 52 years, Ruby (Griffith) Mullins; sons, Michael Keith Mullins, Jr. and his previous wife Tracy, Timothy Wayne Mullins and his wife Rebecca, Robert Paul Mullins; grandchildren, Darrian, Dillon, Devin, Christy, Nathaniel, Emilee, Natalie, Cameron; 7 great grandchildren; brothers, Dennis Mullins and his wife Patricia, Kenneth Mullins and his wife Tammy; numerous nieces and nephews; a loving church family at Ardis Heights Church; along with a host of loving friends.
He is preceded in death by his parents, brothers, Gene Lamar Mullins, Wayne Mullins; daughter-in-law, Vanessa Rae Mullins.
The family will have a memorial service at 2:00 PM on Saturday, December 19, 2020 at Ardis Heights Church located at 2423 FM 118 Greenville, Texas, 75401. Pastor Brian Garmon will officiate.
Family request memorials be made to Leukemia and Lymphoma Society or to Ardis Heights Church.