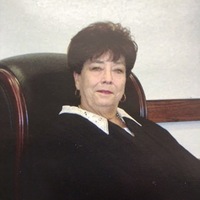 Sandy Berger, 74, passed away Friday, September 17, 2021, in Campbell, Texas, with her protector, Butch, at her bedside. Sandy was born November 27, 1946, in Greenville, Texas, to Frank and Cozette Lane. After graduating from Greenville High School in 1965, she earned a Bachelor of Science degree from East Texas State University. She then got a job with the US Army as a civilian and went to Viet Nam and worked as a Recreation Director at the Service Club in Long Binn outside of Saigon. This is where she met Joe Berger.
They had a wonderful life together traveling and making friends all over the world. When they came back to the states, Sandy had numerous jobs, one being the Director of the March of Dimes in Lawton, Oklahoma. When they moved back to Greenville, Sandy became the Main Street Director for the City of Greenville. She and Joe also opened a restaurant in the Uptown Forum. And they owned and operated, on her grandparents land, a Gun Range for many years. Later Sandy also worked for Child Protective Services. Then in 2008 she was elected Justice of the Peace for Precinct 1, Place 1 in Hunt County. This meant a lot to her, because her father, Frank Lane, after being Sheriff, was also Justice of the Peace before his full retirement.
A celebration of her life will be held from 4-6 pm on Saturday, September 25, 2021 at 1618 Park Street, Greenville, Texas 75401.
She was preceded in death by her parents, Frank and Cozette Lane, her husband, Joe Berger, and all of her aunts and uncles.
She is survived by her cousin Olin B. Lane, Jr. and his wife Sally and their children of Dallas, Texas.
Memorials may be made to Paws for Cause, or a charity of your choice.