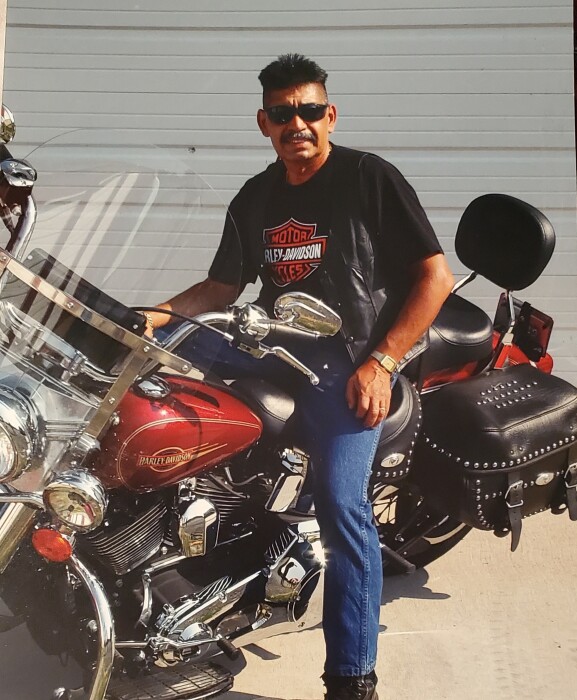 Santos Joe Barron, age 72, passed away, Sunday, December 27, 2020 at a Greenville hospital. Funeral services will be held at 12:00 P.M. on Thursday, December 31, 2020 at Ingram Funeral Home in Quinlan with Adam Williams officiating. A private burial will follow in Memoryland Memorial Park in Greenville. Visitation will be held from 10:00 A.M. – 12:00 P.M. prior to service.
Pallbearers for Santos' service will be Jeff Clark, Justin Bertoglio, Raul Borrego, Richard White, Mike Stout and Steven Banta.
Santos Joe Barron was born on November 2, 1948 in Laredo, Texas. He was the son of the late Mr. Lorenzo Barron and Maria Garcia Cazares Barron. He married Gail Dolores Horton on May 11, 2011. Santos had a talent and love for crafts and enjoyed making knives, canes and other woodwork for family and friends. He was also a very accomplished tennis player and had a blackbelt in Karate and taught Karate to students. He was most passionate about motorcycles and was a longtime member of the Christian Circuit Riders Motorcycle Ministry. He enjoyed traveling and going to casinos. Santos was a member of Lakeview Church. He was a hard worker and worked for Falcon Steel in Kaufman until his retirement. He also loved old 1970's rock music and dancing. He was preceded in death by his parents, two brothers, Naty and Eloy Barron and stepson, Sammuel White, and late wife Nelda Barron.
He is loved and will be missed by his wife, Gail Barron of Quinlan; children, Christopher Barron, Louis Barron, Teresa and husband Jeff Clark, Brandi and husband Justin Bertoglio, Frankie and husband Roger Brown, Toni and husband Cliff Keller and Richard White and wife Vann; numerous grandchildren and great grandchildren, brothers and sisters, David Barron and wife Rosa, Albert Barron, Alex Barron, Maria and husband Juan Chairez, Eva and husband Mike Stout, Raul Bonnego and wife Annie, and Elviria Espara and husband Jose Espara III.