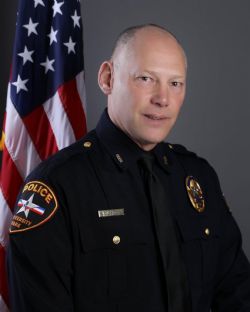 Sgt. Robert E. Ramsey, 57, of Quinlan, Texas, passed away on December 17, 2020. Funeral services will be held 10:00 A.M., Tuesday, December 22, 2020 at Crossroads Church in Greenville, TX with Bro. Robert Webb officiating. Burial will be in Old Rondo Cemetery in Texarkana, Arkansas. Visitation will be 10:00 A.M. to 4:00 P.M., Monday, December 21, 2020 at Coker-Mathews Funeral Home.
Mr. Ramsey was born January 9, 1963 in Lufkin, Texas to Richard Ramsey and Margaret Thomas. He married the love of his life and best friend, Kim Ramsey, on February 26, 2005 in Texarkana, Texas.
Robert was a lifelong learner and dedicated his life to mentoring, leading, and serving others. He worked as a Sergeant for the University Park Police Department for 11 years and served as the Student Resource Officer for Highland Park High School for 4 years. Before transferring to University Park PD, Robert spent 14 years at Texarkana, Arkansas Police Department. Robert's law enforcement service includes serving as an International Police Officer supporting Operation Enduring Freedom in Kabul, Afghanistan. In addition to his law enforcement work, Robert also worked as a Farrier, Teacher, Massage Therapist and as a Texarkana Texas Fireman and Paramedic. He held a Master's Degree from Southern Methodist University in Dispute Resolution.
Robert is survived by his loving wife, Kim Ramsey of Quinlan; two daughters and son in laws, Breanne and Matt Bloxom of New Boston and Britni and Michael Powell of Bossier City, step-son, Patrick Lynn and fiancé, Allie Almond of Buffalo; mother, Margaret Thomas of Texarkana; brother and sister-in-law, Rick and Mercedes Ramsey of Lewisville; his grandchildren, Landon and Jaxon Bloxom and Adalyn and Iyla Powell; niece, Ashlyn Varnell of Longview; and his Brothers and Sisters in Blue at University Park Police Department.
He was preceded in death by his father and step-mother, Barbara Ramsey.
Pallbearers will be Jackie Rymer, Joel Holley, John Trussell, John Burt, Tim Posey, and Tim Sims.
Honorary Pallbearers will be Gloria Banderet, Jason Baxter, Jody Stubbs, John Ball, John Gibbert, John Weaver, Robbie Keenan, Rylee Turner and his Brothers and Sisters in Blue at University Park Police Department.
In lieu of flowers, memorials may be sent to the Highland Park Education Foundation. Please contact Lauren Holloway at 214-780-4060.
Please feel free to come and pay your respects but limit your contact with others as per recommended guidelines from the CDC. Masks are required to enter the funeral home facility.