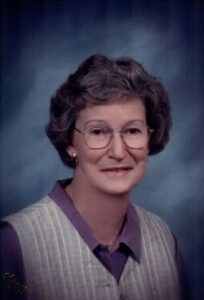 Sue Stewart Miller,88, of Farmersville, passed away on March 24, 2022, at her home.  A funeral Mass will be held on Thursday, March 31, 2022, at 10:00 AM, with the Rosary starting at 9:00 AM, at Saint Williams Catholic Church in Greenville. Funeral arrangements are under the direction of Coker-Mathews Funeral Home.
Mrs. Miller was born Doris Sue Stewart on March 1, 1934, in Radical, Missouri to Earl Stewart and Bessie Garrett Stewart.  She was a loving and devoted wife, mother, grandmother, great-grandmother and great-great grandmother.  She graduated early from high school and began attending college, until she left to care for her beloved grandmother, who had raised her from the time of her own mother's early death. At 18, she met the love of her life, John Miller, and they married on February 6, 1954.  They started their family while John was finishing his degree and lived in several states before settling in Texas.  After her children had all reached school age, Sue returned to school herself and became a nurse and shared her loving and caring nature with all her patients.  She and John retired to Farmersville, where she pursued her two loves of quilting and birdwatching, while creating a home where her large family could gather.  Sue became a devout Catholic just prior to meeting John, and they were active in the Church throughout their lives.
She is survived by her sons, Mark Miller & wife Rhea and John Robert Miller, daughters Christy Silva & husband Luis, Susan Hughes widow of Gregg, Mariane Saathoff & husband Mark; ten grandchildren, twenty-one great-grandchildren and one great-great grandchild.
She was preceded in death by her parents, Earl and Bessie, brothers Joe, Robert and Terry, and her beloved husband John.