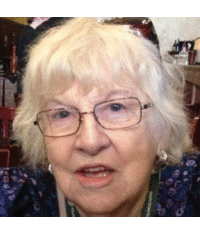 Adele Monica Reeves, 93, died September 4, 2019 at Briarcliff Health Center in Greenville, TX.
She was born November 7, 1925 to Frank and Agnes Harold, in Rochester, NY.
Adele was a homemaker and later co-owner of Taylor Rental Co. in San Antonio.
She was a life long Catholic and member of Saint Francis of Assisi Church in San Antonio. She moved to Greenville in 2015 to be closer to her daughter.
Adele lived in New York, California, New Hampshire, and Texas. She had a lifelong appreciative eye for architecture & antiques. A voracious reader, she was content as long as she had stacks of library books to keep her company.
She also loved her cats.
Adele was predeceased by former husband, Walter C. Reeves, sister Mary Clark, brother Paul Harold, and grandson Ian Hunter-Reeves.
Adele is survived by daughters; Monica Reeves (husband Gordon Hunter) of Dallas, TX; Susan Reeves of Commerce, TX;  Amy Lopez (husband Louis) of Hampton, VA; grandchildren Tara Pearce of Woodland Hills, CA ; Kristen Rueb of Virginia Beach,VA and three great-grandchildren; Quinn Adele Pearce, Ty Rueb, and Nova Pearce.
The family is especially grateful for Dr.Rick Selvaggi's care and guidance these last years. Thanks also to the nurses and caregivers at Briarcliff.