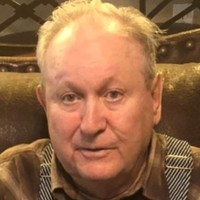 Jimmy D. Cameron 78, of Ennis, formerly of Commerce passed away Sunday evening, December 29, 2019, at Ennis Care Center.
Jimmy was born in Commerce, Texas on June 19, 1941, the son of Jessie Wade Cameron and Dale Cameron. He was married to Dorothy Hough who preceded him in death. Jimmy was a service technician in the Butane business.
He is survived by his son Albert Cameron and wife Rosemarie of Ennis, his granddaughter Sarah Gulledge and spouse Justin, his grandson Matthew Cameron and spouse Haley, his great-grandchildren; Haven Gulledge, Henry Cameron and Heidi Cameron.
He was preceded in death by his wife Dorothy, his parents Dale and Jessie and his brother Johnny Cameron.
Funeral service for Jimmy will be on Thursday, January 2, 2020, at 11:00 A.M. in the Jones-Walker & Son Funeral Chapel with Bro. Randy Hicks officiating.
Visitation will be held one hour prior to service time.
Pallbearers will be Matthew Cameron, Justin Gulledge, Brad Cameron, Tim Anderson, Cody Cameron and David Huffman.
Honorary pallbearers will be Benny Herman and Mack Poole.
Burial will follow at Rosemound Cemetery.