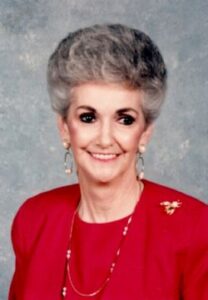 Jo Ann (Graves) Sprinkle, 88, of Greenville went to be with her Lord on Monday, January 3, 2022, at her residence.  A celebration of her life will be held at 11:00 AM, Friday at Coker-Mathews Funeral Home Chapel with Rev. Paul Blue and Kenny Stone officiating.  Interment will be at Forest Park Cemetery following the service.  The family will receive visitors from 6:00 PM to 8:00 PM Thursday at the funeral home.
Born October 4, 1933 in Hunt County, Jo Ann was the daughter of Drannon Graves and Maude (Boyce) Graves.  On July 23, 1954, she married Don C. Sprinkle in Greenville, and they were married for 60 years.  Jo Ann was employed by several banks in Greenville before retiring.  She was a longtime, faithful member of Family Fellowship of Greenville.  Each Sunday she loved meeting with her friends in the Primetimers Sunday School Class.  Jo Ann loved her family unconditionally. She supported her kids and grandkids immensely, and you could always find her at all their sporting events.  Jo Ann was a sports fanatic. She loved the Texas Rangers and never missed an opportunity to watch a game.
Jo Ann, affectionately known as Mamaw, is survived by her children, Debbie Ducote and husband Russ of Greenville, Lisa Espino and husband Rick of Greenville, and Kett Sprinkle of Grapevine; sister, Carolyn Bain of Highland Village; grandchildren, Jon Sprinkle, Kim Bowers and husband Tommy Lewis, Haley Buesing and husband Steven, Heather Priest, Heath Sprinkle and wife Jamie, Christy Miller and husband Adam, Brittni Turner and husband Travis, Matt Palmore and wife Amanda, and Bradley Espino and wife Bonnie; and 21 great-grandchildren.
She was preceded in death by her parents; husband; son, Gary Sprinkle; brothers, Red Graves, Challen Graves and Sammy Graves; sisters, Maudine Doyle, Betty Tingle, Mary Lou Mach, and Monette Graves; and grandson, Craig Bowers.
Pallbearers will be grandsons, Jon Sprinkle, Heath Sprinkle, Matt Palmore, Bradley Espino, Tommy Lewis, Steven Buesing, Adam Miller and Travis Turner.