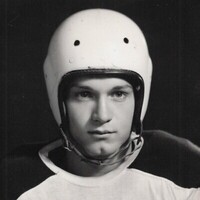 Robert Marshall Noe, (Bobby) III, passed away at his residence on February 8, 2021. He was born in Denison, TX on April 4, 1930, to Robert M. Noe, Jr. and Lois Findley Noe. He graduated from Denison High School where he enjoyed participating in football, basketball, track and band with many of his buddies. His best buddy, though, was Joanna Alice Abrahamson whom he married on April 21, 1951. Bob received his degrees (bachelor's, master's and doctorate) from the University of North Texas. He enlisted in the Army for the Korean War but was transferred to the Air Force due to blindness in his right eye. He spent 4 years in the United States Air Force and was honorably discharged as a S/Sgt in 1954. After 8 years in the industry with Moore Business Forms, Inc. as disvisional administrative systems manager, Bob served as a faculty member for 32 years at Texas A&M University-Commerce. During the last 12 years of this employment, he was department head of the Marketing and Management Department.
Bob was named Professor Emeritus by A&M-Commerce in 1998. He was co-arthor of a Human Resources textbook through 9 editions which was published by Prentice Hall and translated into multiple languages and used throughout the world. The Denison Alumni Association named him a distinguished alumnus in 2006. Bob was a board member of the Human Resources Certification Institute and co-founder of the SHRM Student Chapter at Texas A&M University – Commerce.
Bob and Joanna chose to raise their family in Greenville and were one of the founding families of the Redeemer Lutheran Church. They later became members of Wesley Methodist Church.
Bob loved playing racquetball at the YMCA and the Zeppa Center with anyone who would play. He was a bit too competitive and was forced into racquetball retirement after multiple dental injuries in the 70's. Bob wasa keenly interested in his family and relatives his entire life. He always asked for information about the wellbeing of his sister, special cousins, children and grandchildren.
Bob will be remembered for being a good friend, father, husband and for being handy around the house whenever anything broke. He learned to never be judgmental about people. He could always find kind words to say about anyone, especially if they were in trouble.
His high school sweetheart, Joanne, predeceased him in 2017. He is survived by his sister, Durrelle Lillie, sons, David and wife Linda, Carl and wife Laura, and daughter Judy Williams and husband Lon; Grandsons, Michael and Robert and grandaughters, Lillie, Vaughan and Anna. Additionally, Bob is survived by special cousins, nieces, and nephews, and his much-loved pup, Pepper 2.
The family is grateful for the care and friendship he received from the nice people at Caruth Haven Court for the past 4 years. A special thanks goes to his caregivers Tena Desta, Titi Ande and Ruth Fisha. The family also wants to thank his many Greenville and Denison friends, including former students, for their cards and messages.
Bob and Joanne modeled faith, marriage, the importance of family and thrift to their children. To borrow a phrase from Dad, we children were "lucky ducks".
In lieu of flowers, he would want you to spend the money on yourself and have a great day while remembering to "keep your options open".
A family graveside will be held at Memoryland Memorial Park in Greenville, TX.