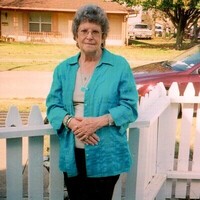 Thelma Idumia Rachel Holley
Born April 8, 1933.  Daughter of Myrtie Idumia Hudson Rachel Jowers Isham and Marvin Franklin Rachel.
She graduated from Campbell School in Campbell, Texas in 1950.  Married Mendell R. Holley, Sr. on December 21, 1950.  Mendell, Sr. passed away November 26, 2006.  They had three children; twins, Mendell, Jr. and Linda Gail, and Kelly Glen.
Thelma worked for Haggar Slacks Manufacturing Company in Greenville, Texas for seventeen years as a final and quality control inspector.  Then eight years in the Lone Oak Elementary school cafeteria in Lone Oak, Texas.  At the age of seventy-five, she learned to dance and followed Gale Hague and the Lone Star Express Band with her sister Bettie.
Thelma is survived by daughter, Linda Gail and husband Thurman Swinney; two sons, Mendell, Jr. and wife Maxine, Kelly Glen; three granddaughters, Tami Childers Kinerd, Kacie Wallace Kaake, Sharon Swinney Scott; four grandsons, Randy Childers, Jr., Mendell III(Thumper), Gary Wallace, Hoyt Holley; four great-granddaughters, Taylor Childers, Hannah Kinerd, Kaitlyn Holley, Brooklynn Holley, Robyn Kaake; six great-grandsons, Haden Kinerd, Bruce Kaake, Dillon Kaake, Gary Dale Wallace, Jordan Suits, James Scott; one sister, Bettie Isham Kennedy; numerous nieces and nephews; along with a host of loving extended relatives and friends.
Thelma is preceded in death by her mother; father; husband; five sisters, Ruby Jewel Nolen, Edna Lee Rachel, Mae Isham, Vida Isham Fannin, Hetti Nell Armistead; seven brothers, Lester Franklin Rachel, Charlie Ammon Rachel, Davis Junior Rachel, Willie Mack Rachel, Fred Leon Isham, John Isham, Charlie Isham.
The family will receive friends and family for a time of visitation from 6:00pm to 8:00pm on Monday, February 28, 2022 at Lynch Funeral Service in Greenville, Texas.
The funeral service will begin at 11:00am on Tuesday, March 1, 2022 in the Lynch Funeral Chapel in Greenville, Texas, with Pastor Robert Cook officiating.  Interment will follow at the Sullivan Cemetery in Campbell, Texas.