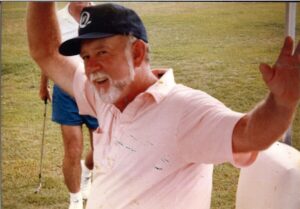 Because he "walked by faith, not by sight," on January 12, 2022, Walter D. Lancaster (Doug) at the age of 79 accomplished his eternal goal "to be away from the body and at home with the Lord" (II Corinthians 5: 6-8). He was born on July 15, 1942, in Dallas, Texas, to James W. and Evelyene Lancaster. After graduating from Hillcrest High School, he attended the University of North Texas. He then joined the Army where he served in the 562nd Artillery Regiment in Korea.
Prior to his deployment to Korea, Doug met his future bride, Janice Harper, at the Webster Parish Fair. They were married on March 9, 1968, in Minden, LA.
Doug and his family established the Tawakoni Lumber Company in 1963. He and Janice worked side by side in the family business until they sold it in 2007.
During the Roger Staubach era with the Dallas Cowboy's organization, Doug worked sideline security for VIPs and photographers. While he worked for the cowboy's organization, he met many interesting people such as Gary Busey and the King of Nepal.
One of the things Doug enjoyed most was playing golf with his friends and he greatly appreciated the time he spent with them on the golf course.
Following his retirement, he began canning and received numerous blue ribbons for his canning products at the Texas State Fair. He continued to use his plumbing and carpentry skills that he had acquired during his many years at the lumber company completing tasks not only in his own home but also in helping others.
Doug's creativity is evidenced by his many painting of portraits and scenes that he and Janice experienced in their travels. He created a life-size nativity scene which can still be enjoyed in the West Tawakoni Park each Christmas season.
Doug is survived by his loving wife of 53 years, Janice and a host of close friends and extended family. He was preceded in death by his parents, his sister Patsy Ruth, and his brother James Paul.
Janice would like to say a special thank you to the Hospice of East Texas for their loving care of Doug.
There will be a visitation from 5:00 – 7:00 pm on Monday, January 24, 2022 and funeral service will be at 11:00 am on Tuesday, January 25, 2022 both at Ingram Funeral Home Chapel in Quinlan.
Interment will be at DFW National at a later date.