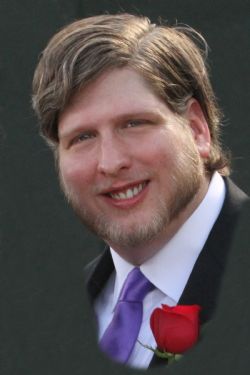 Earl Andrew Nichols Smith, 32, passed away in his sleep on Sunday, December 13, 2020 at his home in Greenville, Texas. He was a talented musician, filmmaker, automobile mechanic and worked as a computer IT specialist. He had a love for his wife Victoria, his family, dogs, music, motorcycles, computer games and the outdoors.
Named for his great grandfather Earl A. Nichols, Andrew was born on January 28, 1988 in Greenville, Texas. He was the second of five children and the first son of D. Robert Smith and Kathleen Dickerson Smith. He married Victoria Burk McLain on October 6, 2018 in Greenville, Texas.
Andrew was known to be a very hard worker, having worked at TeksInc., Omnisys, Stromberg Architectural Products, Jim's Refinishing, O'Reilly's and Bethel Barnhouse Productions. He attended Texas A&M Commerce where he majored in Computer Science and assisted in the computer support for the university. He also studied music, voice, photography, graphic art, served as a Medic Assist at the Moto Grand Prix in the Circuit of the Americas, and could cook like a gourmet chef.
Andrew co-directed the films What Better Dignity and a Parable that were screened at film festivals in Texas and Georgia. The latter film won second place at the Georgia Independent Christian Film Festival. He was also proficient in graphic art and video editing. Andrew performed in theatrical productions for Rockwall Community Playhouse. He also played the guitar and violin and performed in the orchestra of Greenville Family Theater.
He is survived by his wife Victoria, his father Robert, his sister Amy and her husband David Hale, his sister Lily and her husband Eric Jones, his brother Daniel and his husband Mason Mershawn, his sister Margaret Kathleen, his grandparents Elizabeth Dupuis, Weldon Dupuis and Nancy Nichols Smith, his nephews Bobby and Michael Hale and his many cousins. He is preceded in death by his mother Kathleen Dickerson Smith of Greenville and grandfather Donald R. Smith of McKinney, Texas.
There will not be a family visitation due to health concerns during this pandemic, but he will lay in repose at the Coker-Mathews Funeral Home in Greenville, Texas on Friday, December 18 and Saturday, December 19 where a slideshow will play and guests can come at scheduled times and sign in. A private graveside service for the family will be officiated by Pastor Jim Corbet at 2pm on Sunday, December 20, 2020 at Memoryland Memorial Park in Greenville, Texas and will be livestreamed for the many friends of him and his family. Pallbearers are Daniel Ryland Smith, Krystofer Allen, Isaac Rockett, Tyler Watkins, Aaron Maxwell, M. Allen Smith, Josh Reeves and Mike Donceel. Honorary pallbearers are Ryan Smith, Eric Wesson, IV, Bobby Hale, Michael Hale, David Hale, Eric Jones and Mason Mershawn.
Flowers are welcome, but in lieu of flowers donations can be made to Cause for Paws or the Society for the Prevention of Cruelty to Animals.