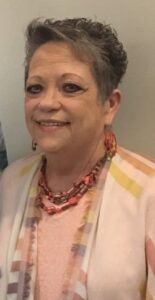 Gay Lynne Weatherly, 71, of Josephine, passed away on March 19, 2022, in Plano, Texas. A memorial service will be 2:00 P.M., Wednesday, March 23, 2022, at Coker-Mathews Funeral Home Chapel with Dr. Dewey Davidson officiating.
Gay was born February 20, 1951, in Greenville, Texas to Billy S. Garrett, Sr. and Nona Murray. She worked as a Mail Service Supervisor for Blue Cross Blue Shield and was of the Baptist faith.
She is survived by her husband, Bob Rosenbalm; son, Matt Rosenbalm; daughters, Laurie Jones and Stephanie Schnorr; grandchildren, Brittany Jones, Calli McClendon, Tashina Rosenbalm, Matthew Rosenbalm, Colin Jones, Connor Jones, Allison Maxey, and Holly Smith; and twelve grandchildren.
She was preceded in death by her son, Brian Weatherly, father, Billy S. Garrett, Sr., mother, Nona Garrett Spradling, and brother, Billy Garrett, Jr.