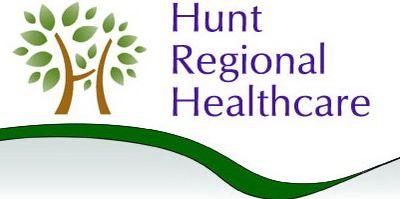 Information about Coronavirus (COVID-19) Disease
Hunt Regional Healthcare is taking many proactive steps to protect the health and well-being of our community. As recommended by the Centers for Disease Control and Prevention, Hunt Regional Healthcare is temporarily implementing patient and visitor respiratory illness screening at designated entry points and visitor precautions. Patients and visitors will receive a brief screening prior to entering the hospital and may be asked to wear a mask during their care or postpone the visit.
To protect the safety of our patients, safeguard staff and conserve masks, visitation precautions include the following:
 Entry points at Hunt Regional Medical Center include the front door (revolving door) and Emergency Department.  Women's Center patients (Labor and Delivery/Postpartum) may have (1) designated guest.
 NICU (1) parent may visit at a time.  Inpatient visitation is being suspended except end-of-life care and surrogate decision makers  Emergency Department visitors may have one visitor. Unless the patient is in critical condition or requires a surrogate decision, we are requesting visitors wait in their car.  No visitors under the age of 16.  Waiting rooms have been temporarily closed.
Symptoms of COVID-19 Patients with COVID-19 have reportedly had mild to severe respiratory illness. Symptoms can include fever, cough, and shortness of breath. Certain populations are at higher risk of developing serious COVID-19 illness, including older adults and people with underlying chronic health conditions like heart disease, lung disease, and diabetes. If you are at high risk, limit travel and close contact with others, wash your hands frequently, and talk to your doctor about what to do if you get sick.
How to Protect Yourself The Texas Department of State Health Services recommends the following actions to protect yourself:  Practice social distancing by staying home and avoiding crowds.  Wash hands often for 20 seconds and encourage others to do the same.  If no soap and water is available, use hand sanitizer with at least 60% alcohol.  Cover coughs and sneezes with a tissue, then throw the tissue away.  Avoid touching your eyes, nose, and mouth with unwashed hands.  Disinfect surfaces, buttons, handles, knobs, and other places touched often.
What to do if you are sick and develop a fever and/or cough:  Call your primary care provider first.  Stay home except to get medical care.  Separate yourself from other people and animals in your home.  Call ahead before visiting your doctor.  Wear a facemask around other people.  Cover your coughs and sneezes.  Avoid sharing personal household items.  Clean your hands often.  Clean all "high-touch" surfaces every day.  Monitor your symptoms.  Seek prompt medical attention in the Emergency Department if you develop shortness of breath. Call the ED ahead of arriving if possible at 903-408-1260.
Resources:  Texas Department of State Health Services COVID-19 Hotline 877.570.9779  Centers for Disease Control & Prevention https://www.cdc.gov/coronavirus/2019-nCoV/index.html  Texas Department of State Health Services https://www.dshs.texas.gov/coronavirus/