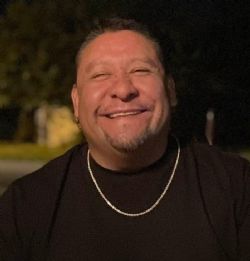 Jesus Barcenas, Jr., 47, of Greenville, passed away on January 19, 2022, in Greenville. Funeral services will be 11:00 A.M., Friday, January 21, 2022, at Coker-Mathews Funeral Home Chapel with Father Anthony Hernandez officiating. Interment will in Memoryland Memorial Park. Visitation and Rosary will be 5:00 P.M. to 7:00 P.M., Thursday, January 20, 2022, at the funeral home.
Jesus was born October 20, 1974, in Greenville, Texas to Jesus Barcenas, Sr., and Juana Mora. He was self-employed and a member of St. Williams Catholic Church.
He is survived by his parents, Jesus and Juana Barcenas; sons, Angel, Jesse, Matthew, Joseph, and Aaron Barcenas; daughter, Rocio Barcenas; sisters, Irma Barcenas, and Hilda Carrillo and husband, Alvaro; seven grandchildren; seven nieces and nephews; eleven great-nieces and nephews.
He was preceded in death by two brothers, grandparents, aunts, and cousins.
Pallbearers will be Andrew Carrillo, Alvaro Carrillo, Angel Barcenas, Matthew Barcenas, Joseph Barcenas, and Joseph Carrillo.