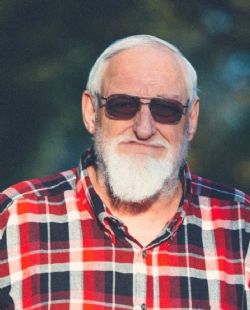 Rickey Dale "Stretch" Henderson, 67, of Greenville passed away on May 11, 2021, surrounded by his loving family. A funeral service is planned for Monday, May 17, 2021 at 2:00 P.M. in the Coker-Mathews Funeral Chapel with Dr. Dewey Davidson officiating. Visitation will be Sunday, May 16, 2021 from 2:00 PM to 4:00 PM at the funeral home. Burial will be private for family only.
Stretch was born on January 27, 1954 in Terrell, Texas and was adopted by Vernon J. Henderson and Rozine Winder Henderson. Stretch married the love of his life Natalie C. Benton on June 4, 1976 in Greenville, Texas. Stretch was crew chief for car #19X for 14 years. Stretch was retired from L-3 Communications in Greenville. Stretch loved his family and friends, he loved fishing and loved working on cars and fixing things.
Stretch is survived by his loving wife Natalie of Greenville, daughter Mariah Reeves and Husband Aaron of Greenville, daughter Natasha Stone of Dallas, grandchildren Lorah Stone, Jackson Stone, Maci Rice, Seth Rice, Morgan Reeves, Layla Reeves and Jackson Reeves.
Stretch is preceded in death by his parents, sister Melba Weeks, brother Joe Henderson and aunt Earline Hamilton.
Pallbearers will be Jackson Stone, Seth Rice, Morgan Reeves, Jackson Reeves, Jeremy House, Keith Benton, Cory Benton, Brian Benton, Trevor Benton, and Joey Henderson.