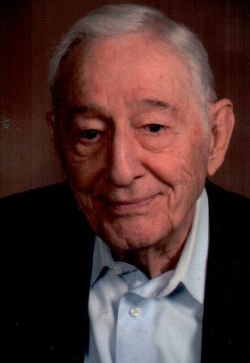 Christian H. "Steve" Siebenhausen, Jr. of Commerce, Texas passed away on Monday, August 10th at the age of 95. A graveside service will be 10:00 A.M., Friday, August 14, 2020 at Memoryland Memorial Park under the direction of Coker-Mathews Funeral Home.
He was a devoted husband, father, grand and great-grand parent, who had faith in, and praise for the Lord. He was a person of integrity, honesty, and love, and willingly shared his talents and resources with others.
Steve was born in Dallas, Texas to Christian H. and Bertha R. Siebenhausen on February 15, 1925. He graduated from Woodrow Wilson High School in 1941, and then worked for Dallas Title & Guaranty Company for 2 years. He served in the Texas State Guard and in 1943 enlisted the U. S. Army Air Corps. He served in the Air Corps for 2-1/2 years, 20 months of which were in Australia, New Guinea and the Philippine Islands. He received the Bronze Star Medal during his service. After returning home from the war, he attended Rice Institute, now Rice University. In 1950, he graduated with a B. S. in Mechanical Engineering. He was a member of Tau Beta Pi honors engineering society.
Upon graduation, Steve began his 35 year career with Shell Oil Company, retiring in 1985. He was one of Shell's earliest engineers assigned in 1952 to work on drilling and development of oil and gas fields in offshore waters. In 1956-57, he worked for Shell in England on an assignment with Sir Frank Whittle, the original inventor of the jet aircraft engine.
In 1980, while he was General Manager of Construction and Design, Shell Oil Co. was awarded the American Society of Civil Engineers "Outstanding Engineering Achievement of the Year" for its design and construction of the fixed piling drilling and production platform "Cognac" in the Gulf of Mexico in the then World record water depth of 1025 feet.
He served as President of Rice University's Engineering Alumni Association and was Texas President, and a member of the National Board of Directors of Junior Engineering Technical Society.
In 1943, he married Harrianna Butler. They were married for 43 years until her passing. In 1993, he married Glenna Wilson. They were married for 23 years.
After moving to Commerce, Texas, he served at the First United Methodist Church as a Sunday school teacher, on the Board of Trustees, on the Administrative Board and on the Foundation Board. He also enjoyed being a member of the Nickel Coffee Society, the "Over the Hill" golf group, and the Grub Club whose members he dearly loved. He loved his extended family, fishing, and sharing stories of his life's experiences. He treasured the blessing of being a citizen of the U.S.A.
He was predeceased by his parents, his loving and beloved wives, Harrianna in 1991, and Glenna in 2016, his daughter, Amanda S. Fink, in 2008, and his brother, Maurice J. Siebenhausen, in 1986.
Steve is survived by three children, Karen Siebenhausen of Dallas, Christian H. Siebenhausen III and wife, Pamela, and Locke B. Siebenhausen of Greenville.
He was blessed with 10 grandchildren and 19 great-grandchildren. His grandchildren are Chris Siebenhausen IV and wife Lesley, Kristianna Breed and husband Michael, Brian Fink and wife Amanda, all of Dallas. Joelle Beisner and husband David, Karena McIlwain and husband Defonza, Lauren Shingleton and husband Adam, and Elissa Lindsey and husband Steve, all of Austin. Trevor Weichmann of Jacksonville, Florida, Ivory Kay Siebenhausen of Houston, and James Siebenhausen and wife Melissa of Greenville.
We are requesting that you limit the size of the gathering during the viewing due to concerns regarding the current health crisis. Please feel free to come and pay your respects but limit your contact with others per recommended guidelines from the CDC.